Why is Webside Manner Important During a Telehealth Virtual Visit?
During a telehealth virtual visit, physicians must use advanced communication skills to connect with the patient. We call this Webside Manner — a term Eagle coined many years ago to describe the unique qualities a physician must have to provide remote care. Webside Manner is the telemedicine version of bedside manner. It includes:
Words are the most obvious way we can communicate using video conferencing. Every physician must be a good communicator, but telemedicine physicians must go beyond normal bedside manner.
Body language includes using hand gestures to enhance the patient exam and demonstrate a diagnosis or treatment.
Tone of voice is the best way to communicate empathy over long distances. We've all experienced this phenomenon over the phone with a friend or family member.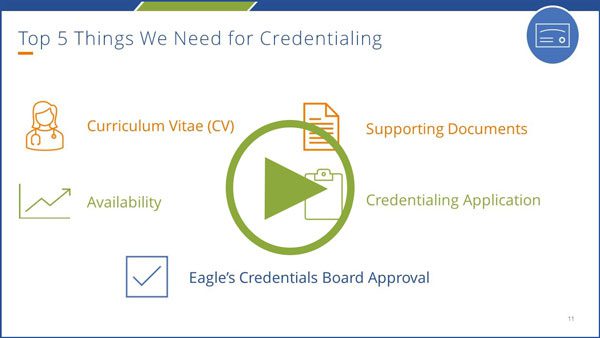 How Telehealth Credentialing Works at Eagle
Humans rely a lot on cues like tone of voice and body language to communicate. Many you have probably hear of the rule of personal communication that says that when receiving information, Words only communicate 7% of the meaning. Tone of Voice and Body Language communicate more about meaning to the listener.
Because two-way, audio-visual technology is the communication tool, telehealth virtual visit doctors can't rely on body language to get their points across.
it is reasonable to say that telemedicine physicians—since only their heads and shoulders appear on the video screen in the Emergency Department or patient room—must make adjustments to the way they communicate, using voice, manner and facial expression to compensate for the fact that a key conversational element is constrained here.
Telehealth virtual visit doctors must be active listeners, letting the patient or family member take the time to ask questions, asking follow-up questions if necessary, and letting the patient or family member know they have been heard and understood. Listening is key to virtual consults! Listening for both what symptoms the patient describes and how talks about their symptoms can help the physician know what questions to ask and what diagnosis to make.
As TeleHospitalist Trainer, my focus is to prepare our new telemedicine hospitalist providers for success right from their very first shift. TeleHospitalists must be comfortable with the technology, as well as the subtleties of each TeleHospitalist team. Learning to develop a 'webside manner' is critical when communicating and creating a personal connection with patients. This training will enable new TeleHospitalists to provide high quality care.
– Dr. Brian Hunt, TeleHospitalist Trainer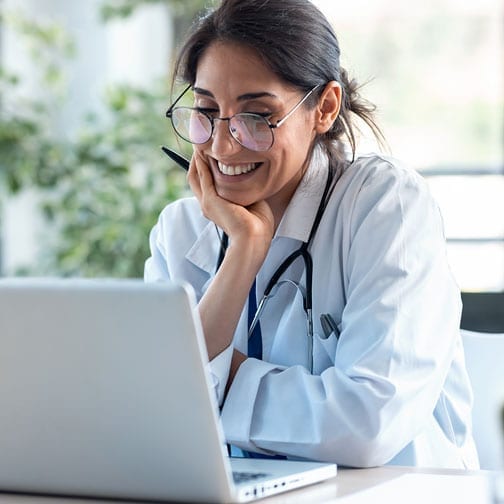 After a year of working long hours and back-to-back schedules, hospitalists, emergency medicine physicians and critical care providers are anxious to find jobs in telemedicine to improve work-life balance. For those considering a telemedicine role, one of the fastest-growing areas in medicine, finding the right organization is paramount.