Hospitalist telemedicine provides an efficient alternative to nighttime care in hospitals with staffing shortages.
Hospitalist telemedicine, TeleHospitalists and TeleNocturnists, helps hospitals and patients get access to physicians despite the shortage of physicians practicing in this field.  Hospitals providing care in underserved areas and rural communities depend on general practitioners, like hospitalists and nocturnist. Recruiting and retaining these physicians is more difficult due to:
Growth: Demand continues to outpace supply
Competition: Salaries are rising
Repercussions: Turnover is increasing
Take the first step toward a solution. Consider telemedicine coverage.
WESTERN WISCONSIN HEALTH • WISCONSIN • HOSPITALIST
Western Wisconsin Health is a Critical Access Hospital in Baldwin, Wisconsin—population 4,000, about 30 miles east of Minneapolis. It includes 11 acute care beds, an obstetrics unit, a surgery unit, an emergency department (ED), and an attached rural health clinic. The hospital approached Eagle with a need for telemedicine night coverage. The facility had a hospitalist telemedicine program with two physicians covering the day shift, and a nurse practitioner covering evening and nighttime hours. The departure of the NP's in 2017 made it difficult for the facility to find consistent overnight coverage.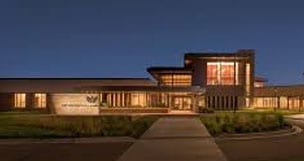 Western Wisconsin Health began an Eagle TeleNocturnist program in 2017. The Eagle physician team advises and provides support to the nursing staff that covers the inpatient care unit and patients at the skilled nursing level at night.
The Eagle physician team advises and provides telemedicine night coverage for an RNs and a certified nurse assistant (CNA) who cover the inpatient care (med/surg) unit at night. The RN house supervisor, ED, and OB nurses also work with the Eagle team on those nights when the med/surg patient load is heavy and they are needed to "float" to the unit. The Eagle TeleNocturnist team manages the care administered to these patients, too.