Hospitals and communities have taken a big hit in recent months. The good news is — telemedicine has helped them stay afloat, closing up service gaps to meet community needs. Eagle is proud to help these hospitals rise to the challenge.
Let's take a step back to examine this complicated situation, and illustrate just how telemedicine has fueled the rebirth of these hospitals and the communities they serve.
Hospital profits and revenue dipped during the pandemic
As hospitals grappled to cope with the emerging COVID-19 crisis, they faced growing pressure to make room for the expected surge in infected patients.
The Centers for Disease Control and Prevention (CDC) recommended hospitals reschedule elective surgeries to free up hospital beds. While this was prudent advice, the sudden drop in high-margin services, such as elective surgery and screening procedures, took a toll on every hospital's bottom line.
These procedures can account for up to 80% of revenue, while infectious disease and intensive respiratory treatments are less profitable.
When elective procedures halted in mid-March, hospitals saw their revenue take a steep dive quickly. Hospitals in rural areas not yet impacted by the outbreak, also suffered financially. Elective surgeries are the meat-and-potatoes that keep community hospitals alive.
Diversified Care Improves Hospital Revenue and Patient Care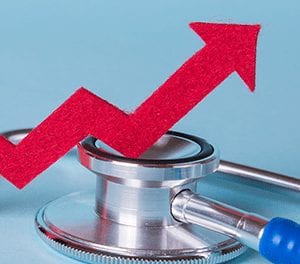 Hospital revenue has fallen while facilities have also been pushed to provide higher quality, lower cost care. In many states, hospitals joined regional health networks to offer more coordinated care using shared resources. Smaller hospitals, often in rural areas, struggled to serve their communities without that support system, losing physician staff and relying on tertiary centers — possibly 100 miles away, or more — to handle patients requiring critical care or specialty surgeries.
Healthcare industry professionals reported that overall, hospital revenues across the country were down 40 to 60 percent — while costs were increasing.
In addition to elective surgery cancellations, fewer people were seeking emergency treatment, viewing hospitals as too dangerous. Emergency room visits across the country were down 42% in late March and April of this year compared to a similar period last year, according to the CDC. More ER visits were reported in late May than the lowest point in April, but they were still down more than 25% year-over-year.
While there were significant increases in respiratory-related visits during that period, likely related to the coronavirus, even those admissions didn't make up for a massive drop in visits for a slew of other ailments. "In the history of our system, we have never seen a drop like this," wrote the CDC's Kathleen Hartnett, an epidemiologist.
And, billions of dollars in government aid weren't enough to stop the bleeding, according to the American Hospital Association.
The sharp revenue decline coupled with the higher costs of labor, supplies and treatment for COVID-19 patients were estimated to result in hospitals losing a collective $202.6 billion from March 1 to June 30, the AHA reported.
At the same time, referrals from doctor's offices were running at one-half to one-quarter of capacity. Physician practices were seeing declines in patient volume of 30-75%, according to the Medical Group Management Association (MGMA). The business of primary care practices declined by 40-50%, Hartnett said.
Facing furloughs, job cuts
At a time when healthcare is needed most, many facilities are struggling to maintain hospital profits and keep their doors open. Hopsital CEOs were making very difficult decisions in order to:
Retain staff
Provide necessary services
Care for their communities
Unlike other businesses, lost hospital revenue means many healthcare systems reduced staff hours and salaries, furloughed and even laid off staff. This impacts patient care and community health. In early April, more than 9,500 workers in Oregon's healthcare and social assistance sector were seeking benefits after losing their jobs — primarily due to elective surgery cancellations.
Adding to the misery, the US economy was crashing and unemployment reached record levels. More than 14 million Americans filed for unemployment during the pandemic — raising figures from 6.2 million in February to 20.5 million in May 2020.
Many people lost their health insurance along with their jobs. Those who had coverage faced soaring deductibles pushing millions of American families to the breaking point — as the affordability crisis took a toll on middle-class households with health insurance as well as the poor and uninsured.
Quantify Your ROI
How can a telemedicine program deliver additional hospital profit and  revenue? Financial benefits of Eagle's telemedicine programs include:
Reducing transfers
Lower turnover and less physician burnout
Eliminating locum support costs
Cost Efficiencies through economies of scale
Patient Satisfaction
Reduced length of stay
For a single worker with job-based insurance, the average deductible in 2006 was just $379, adjusted for inflation. By 2018, that figure had more than tripled to $1,350. Four in 10 U.S. workers have at least a $1,500 deductible — the threshold for high-deductible coverage for individuals, according to a Kaiser Family Foundation poll. Over the same time, insurance premiums also increased, rising at more than double the rate of inflation and outpacing wage gains.
Yet Americans' savings are not keeping pace, data show. And, more than four in ten workers enrolled in a high-deductible plan report they don't have enough savings to cover the deductible.
Massive thanks to healthcare workers
Our healthcare heroes have been carrying the day for our states and our nation!
Amid all the pandemic's turmoil and uncertainty, legions of healthcare heroes stepped up to meet the challenge. Across the country, thousands of dedicated people put their own lives at risk to provide care for patients with COVID-19. These physicians, nurses, other health care professionals, and hospital support staff were supported by first responders — emergency rescue, law enforcement and others providing essential services and products.
They were often lacking the proper equipment or preparation necessary, and risked their own lives to save the lives of others. Their dedication and professionalism have made them the nation's heroes.
They deserve the certainty of employment as the crisis eases, but many hospitals cannot guarantee those jobs. Hospitals are suffering financially, which has led to layoffs and closures — with a devastating effect on the local economy.
Hospitals are a huge economic engine for the community
Employment is a major contribution each hospital makes to its community. In 16 states hospitals are the largest employers, including Alaska, Arizona, Connecticut, Delaware and Idaho.
Hospital profits and financial stability are essential to the health of the local economy, especially in rural communities, along with county government, the school system, and often a single private or public industry. Healthy hospital profits and revenue generation are needed to keep the community employed and ensure patient care.
These local hospitals help fuel the prosperity of local businesses and spur job growth. So when the local hospital either has layoffs or closes altogether, the entire community suffers. During the COVID-19 crisis, rural hospitals felt the sting of canceled elective surgeries and the drop in emergency patients — and analysts believe the situation may worsened with the economic downturn.
The recovery of the hospital is not only key from a clinical perspective but from an economic perspective, for the health and well-being of their communities.
The CARES Act
As stimulus checks went out to American households, hospitals received their own "bandaids" in the form of the Federal CARES Act and small business funds. Lawmakers wanted to supplement community and private health systems to help meet the influx of virus-infected patients.
Here's a snapshot of the dollars doled out:
Hospitals: There is $100 billion for hospitals responding to the coronavirus. The initial $30 billion is being directed to hospitals and physician practices based on their share of Medicare fee-for-service spending.
Community health centers: The bill provides $1.32 billion in immediate additional funding for community centers that provide health care services for roughly 28 million people.
Veterans' health care: There is $20 billion set aside for veterans.
Telehealth: The bill reauthorizes a critical telehealth program to extend the reach of virtual doctors appointments.
This big package came with a hitch, however. There is a deadline for repaying unspent monies.
The clock is ticking…
CMS has extended the repayment of these accelerated payments to begin 120 days after the date of issuance of the payment. The repayment timeline is broken out by provider type below:
Inpatient acute care hospitals, children's hospitals, certain cancer hospitals and Critical Access Hospitals (CAH) have up to one year from the date the accelerated payment was made to repay the balance.
All other Part A providers and Part B suppliers will have 210 days from the date of the accelerated or advance payment was made to repay the balance.
Medicare advanced funds must be spent on Medicare beneficiaries or the funding must be returned.
The wisdom of investing in Telehealth
This COVID-19 situation would be even more dire were it not for telehealth and the new willingness of Medicare to cover virtual care. Since CMS changed their regulation of reimbursement, industry analysts saw telehealth and telemedicine "enthusiastically embraced across the country, to the point where it has become an integral part of care delivery just in the last three weeks," according to a Medical Economics article.
Some hospitals have moved quickly toward telehealth, viewing this resource as best serving their communities and driving the hospital profits needed to keep the doors open. Others, lacking sufficient hospital revenue, have been hesitant to spend those dollars.
Eagle has participated in many of these discussions, providing a variety of services customized for each hospital — hospitalists as well as ICU, cardiology and pediatric specialists. It's become clear that telehealth, or telemedicine (whichever term you prefer), can help hospitals survive through even the worst downturns in our economy.
When hospitals invest in Eagle Telemedicine, they demonstrate their resilience and reinforce trust in the services they offer. In case after case, we have seen these hospitals save money they would have spent in recruiting and hiring physicians that, all too often, end up leaving in the short term.
Life in a rural community doesn't suit everyone, but with telemedicine, that factor isn't in the equation. With the on-site assistance of dedicated healthcare professionals, a small community hospital can prosper thanks to telemedicine — especially Eagle Telemedicine. Those local physicians, nurses and other professionals will keep the jobs they love, live in the community they love, and the other businesses in that community will thrive as well.
That's the beauty (and the promise) of telemedicine.