With our history of providing telemedicine consult services to hospitals for nearly a decade, it's interesting to see the change in the industry, the growing acceptance of telemedicine by patients, providers and—slowly but surely—payers.
It's also interesting to observe the changes in how we talk about what we do. Ten years ago, we spent much of our time talking with hospital executives about why they needed us. Today, it's more a question of when.
Two main types of prospects: hospitals with a crisis, or hospitals with a vision
Hospital executives who call us or request a consult through our website usually fall into one of two categories: Those who have a crisis, and those who have a vision. Most understand that adding telemedicine consults can help them meet their challenges. Some are more concerned than others with how quickly we can go to work. A few are already in crisis mode, facing a liquidity crisis or a possible closing. They need us NOW (or, as we're often told, "yesterday"). Others are calmer: They know they need to change direction, and want to see how we can help.
I wish all of them were in the latter group.
In remarks I am preparing for an upcoming presentation at the 11th Annual Meeting and Summit of the Telehealth Alliance of Oregon, I hope to communicate one main message:
What you don't solve with a vision, you or your successor will solve in a crisis.
A common truth
It's a truth that isn't unique to telemedicine or the hospital industry. Take retirement, for example. You either begin planning for it 30 years before it happens, or you wait until your 50s or 60s and realize you've got lots of work to do.
The same can be said for the hospital that had three neurologists, two of whom announced their retirement and left the hospital hanging. There was no succession plan, and now there is a crisis that will take three to six months (or more) to fix. Meanwhile, the hospital is forced to transfer patients who need stroke care…all because no one had a vision.
Another hospital employed neurologists who were part of a group owned by a competitor hospital. When the neurologists gave their notice and said they were going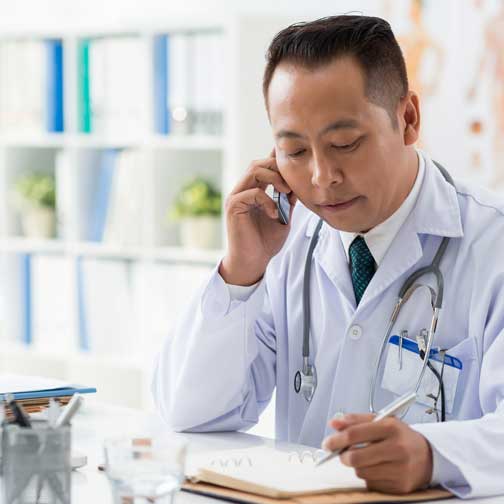 to spend all their time at the other hospital, there was a crisis…because no one had a vision.
Another rural hospital had struggled with staffing and finally had reached a point where it was doing all right, with daytime hospitalists sharing night-call duties. Then one of the hospitalists took a new job in the big city and the hospital was back to square one with a staff coverage crisis…because no one had a vision.
Acting vs. reacting: the critical difference
If hospitals see patient volumes trending down and more patients transferring out of the Emergency Department (ED), it might not be a crisis today. But, if you have a vision for expanding your specialties and serving your community better, then you'll act before you reach the tipping point.
These are the clients we enjoy serving most. They have time to be creative with the tools and processes we have to offer. They might realize, for example, that they never considered offering infectious disease (ID) treatment because they knew they could never recruit a team of ID specialists to their small town. But telemedicine consults makes that specialty possible for them. It opens new doors. Changes the game. The biggest task in front of them is to sell the vision to the rest of their team. It's a little easier than trying to save a dying hospital.
All are welcome
I'm not saying that we won't work with hospitals in crisis. Of course we will, and you'll be pleased with the results. Our attrition rate is extremely low among both types of clients—those who come to us with a crisis, and those who come to us with a vision. The results are good either way.
But I speak from years of experience in saying that if you're a hospital executive, you'll do yourself a favor by taking a few minutes to envision your future…and to talk with us now about how telemedicine can help make it a reality.