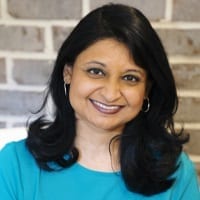 Dr. Sheetal Patel
TeleHospitalist &
Regional Medical Director
Dr. Sheetal Patel, a hospitalist with almost 20 years of experience and more than 5 years practicing telemedicine in primary care likes adventure. She rides horses. She rock climbs. She works in telemedicine.
Her sense of adventure lead her to telemedicine. A few years later, Eagle Telemedicine hired Dr. Patel. Dr. Patel's unique background and dedication to her patients makes her the right choice for Eagle.
"Telemedicine is groundbreaking," she says. "I am proud to bring care to patients using telemedicine." Dr. Patel is on the cutting-edge of a growing industry that provides care to underserved communities.
"She has a tremendous amount of experience as former medical director, an inpatient hospitalist and a telemedicine provider," says Dr. Talbot "Mac" McCormick. "Her webside manner is excellent. She is dedicated to her patients and underserved communities."
Dr. Patel's commitment to underserved patients is clear. One look at her LinkedIn profile reveals her dedication to patient access. She gives her time to battered women, the Community Free Clinic of Cabarrus County and the Cabarrus Health Alliance.
Dr. Patel is confident that more hospitals will adopt telemedicine to increase patient access and improve patient care.
Telemedicine in Primary Care
Dr. Patel works with more than 10 hospitals in Georgia, Iowa, New Mexico, North Carolina,
South Carolina and West Virginia. Many of these hospitals are in rural areas. The hospitals have limited staff. They use hospitalists, like Dr. Patel, to cover night shifts.
Telemedicine allows rural communities to provide top-notch care to the patient at any time – day or night.
A telemedicine cart and video conferencing allow her to interact with patients and hospital staff from her home in North Carolina.  Regardless of the location, Dr. Patel says the challenges patients face are generally the same.
Economic and social issues prevent many of her patients from receiving regular preventive care. By the time Dr. Patel "beams in" the patients are often in dire need of care.
"The patients I see have chronic conditions, like heart disease, or serious diseases, like pneumonia," says Patel. "Without wellness care and early treatment, minor problems become major illnesses."
Her patients need expert care and good advice.
"In some areas of the country, patients and staff can be very humble and down-to-earth," she says. "Others challenge me with important questions about treatment options," says Patel. "My patients express their gratitude for the work we are doing," she says. "It is a joy to provide patients with a level of care they wouldn't have without telemedicine."
Mentoring Others to Improve Care
Early in her career, Dr. Patel was a professor at the University of Massachusetts. She trained and monitored residents. Today, she is using her teaching experience to support her colleagues performing telemedicine in primary care.
During her transition to telemedicine, Dr. Hunt, another Eagle Telemedicine hospitalist, was her mentor. He helped Dr. Patel become proficient with the EMR at a North Carolina hospital where she continues to provide Telemedicine.
"I was lucky to have a mentor to guide me through my first night as a telemedicine physician. Mentorship is very beneficial," says Dr. Patel. "Now, I lead the effort to mentor physicians transitioning to Telemedicine. There are specific protocols for how and when to use telemedicine at each hospital. I train new providers on these protocols."
Dr. Patel is responsible for onboarding many Eagle physicians. She provides guidance about the hospital's procedures. She offers in depth training on various the EMR systems, which can take up to six hours.
Onsite nurses benefit from her teaching experience. She helps these nurse complete medication reconciliation forms. She also works to with nurses, Emergency Department (ED) physicians and daytime hospitalist to improve communication.
She also coaches onsite Emergency Department (ED) physicians, nurses and other clinical staff on effective communication. Appropriate patient hand-off requires a high-level of communication with nurses and daytime providers. It is important to quality patient care.
Working with Eagle
Providing telemedicine in primary care allows Dr. Patel to practice medicine and have time at home with her husband and two daughters, ages 13 and 9. She works in a basement office, which used to be the playroom for her children. The family refers to her workspace as her "dorm room."
She also appreciates being part of the Eagle team. Dr. Patel has the power to choose when to work. The ability to plan her family time is important.
"Eagle offers me a great deal flexibility. The company has a coordinated and sophisticated credentialing process," she says. "It is impressive how Eagle is able to provide care across multiple hospitals. I am very excited to be a part of the company's growth."
She is pleased to see that hospitals are promoting telemedicine. Clinicians and administrators see the positive impact that telemedicine can have on their communities.
"Being part of that ride has been amazing," she says. "We will see more telemedicine in the future."
Dr. Patel has been practicing hospital medicine for almost 20 years. Dr. Patel completed an Internal Medicine residency program at Berkshire Medical Center in western Massachusetts in 2003. Dr. Patel served as an associate professor of medicine with the University of Massachusetts. She has provided quality care to hospitalized patients in both Massachusetts and North Carolina. Dr. Patel also served as a medical director for a large health system in North Carolina prior to her transition into telemedicine in 2016.