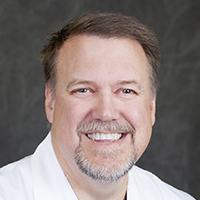 "It's All about Collaboration"
In mid-2019, Dr. Brian Hunt made a call to a physician to discuss a patient at one of the hospitals where he serves as an Eagle TeleNocturnist. The physician, onsite at the hospital, asked him how his evening was going.
"It's one of the worst nights of my life," said Dr. Hunt, who had just learned that his father had died unexpectedly.
The physician immediately offered to cover the next night shift for Dr. Hunt.
Today, Dr. Hunt tells the story often. "It's such a good illustration of how we collaborate—the physicians on the ground and those of us with Eagle Telemedicine," he says. "It highlights how we are all part of the same team. It sounds trite, but we work together like family. It's all about collaboration."
Once a telemedicine skeptic
Dr. Hunt began as an Eagle TeleNocturnist in 2010, working out of his home office on the small farm where he and his wife, Marty, live south of Kansas City, Kansas. After more than 20 years of medical practice in various settings, including emergency medicine and community practice in rural clinics, it was a welcome change, though he admits he was once highly skeptical of telemedicine.
"I didn't want to use a computer," he says. "I thought technology was a direct route to depersonalization, taking away from the art of practicing medicine. I couldn't have been more wrong."
What caused his turnaround? When he began to see how the electronic medical record (EMR) was standardizing medicine and creating a best practice model of care that was compelling to him, he gradually warmed to the idea of incorporating computer technology in his practice.
Next, he learned more about telemedicine's benefits from Dr. Jason Kimball, an Eagle hospitalist who was a colleague of Dr. Hunt's. Eagle was beginning to augment its hospitalist management program with telemedicine, and Dr. Kimball was enthusiastic about the advantages it offered to rural hospitals.
Today, telemedicine's biggest advocate
The rest is history. "Telemedicine reinvented my life," he says. Not only did it enable him to eliminate his three-hour daily commute to the hospital, but it also provided a platform for him to practice in a more focused, more personal way.
"I'd been driving one and a half hours to and from the hospital. That was three hours out of my life every day. With telemedicine, I realized I had the opportunity to be part of my family's life."
It makes doing a good job easier
Handling an average of eight admissions across three to five hospitals per night, along with anywhere from 20-40 cross-cover calls and the occasional change of patient status from the floor to the intensive care unit (ICU), Dr. Hunt says his workload is similar to what it was when he worked in a hospital. The difference is that there's no longer the stress of a long commute. He's more rested and better prepared mentally.
"It's easier to do a good job," he says. "I like to think that I do the best I can do no matter where I am working, but you're always better off when you have time to spend with your family. I have enormous respect for physicians who work onsite and handle all the pressures of that kind of life, but this is better for me."
Not for every physician
Dr. Hunt was instrumental in forming Sunflower Telemedicine, a group of Kansas-trained and Kansas-licensed physicians who partnered with Eagle Telemedicine to improve healthcare access and patient outcomes in Kansas' rural communities. He discovered early on that communicating with patients and their families via telemedicine videoconferencing can help build a tighter connection than when the physician is at the patient's bedside because there aren't the typical interruptions of paging and phone calls.
"I don't think telemedicine is for every physician. You've got to realize the risk—that the technology can dilute your ability to communicate with the patient. But if you are skilled and appreciate the challenge of creating a connection across that medium, I guarantee that you will build a bond that will go a long way." For example, he makes a practice of never breaking eye contact or looking away when conversing with a patient online. "Once you break that connection, it's not easy to get it back."
In special instances, if there is time and if he discovers that a patient is an animal lover, he might hold his office cat up to the camera for the patient to see. "It adds a human touch to our conversation, and helps the patient feel a little better," he says.
Dr. Hunt also appreciates the operational benefits telemedicine can deliver to a hospital. In a typical rural hospital without telemedicine, patients might have to "tread water" until morning when physicians come on duty and can write prescriptions, order tests and whatever else is required by the patient's plan of care. With a telemedicine physician available through the night, all these things get set in motion sooner. "It's just better for the patients," he says. "And it can shorten their stay when they're not waiting for the day doctors to arrive to get the ball rolling."
Telemedicine makes the world smaller
Even after nine years of telemedicine practice, it still surprises and delights him how positively patients and their families respond to it. "It doesn't matter how old they are—from kids to 102-, 103-year-olds. Patients love it."
He loves it, too. "I'm a farm boy from southern Kansas. Telemedicine gives me the opportunity to learn about people in different parts of the country. They might be factory workers in a big city. They might tell me about salmon fishing in Oregon. I would never meet and help so many different kinds of folks without telemedicine. It makes the world smaller."