The Joint Commission awards Eagle Telemedicine Ambulatory Health Care Accreditation for Telehealth Services
Inpatient Telehealth Services Company Demonstrates Focus and Commitment to Improving the Quality and Access to Specialist Care
ATLANTA, Ga. (February 23, 2020) —Eagle Telemedicine earns The Joint Commission's Gold Seal of Approval® for Ambulatory Health Care Accreditation for telehealth services by demonstrating continuous compliance with its performance standards. The Gold Seal is a symbol of quality that reflects a health care organization's commitment to providing safe and quality patient care.
Eagle Telemedicine underwent a rigorous review on December 18, 2020. During the assessment, a team of Joint Commission reviewers evaluated compliance with Ambulatory Health Care Accreditation standards spanning several areas including the remote delivery of specialty care, practice environment of the telehealth provider, creating teamwork with local doctors and providers, environment of care, and rights and responsibilities of the individual.
The Joint Commission's standards are developed in consultation with health care experts and providers, measurement experts, and patients. They are informed by scientific literature and expert consensus to help health care organizations measure, assess, and improve performance. The surveyors also conduct observations and interviews of the organization applying for accreditation.
"As a private accreditor, The Joint Commission surveys health care organizations to protect the public by identifying deficiencies in care and working with those organizations to correct them as quickly and sustainably as possible," says Mark Pelletier, RN, MS, chief operating officer, Accreditation and Certification Operations, and chief nursing executive, The Joint Commission. "We commend Eagle Telemedicine for its continuous quality improvement efforts in patient safety and quality of care."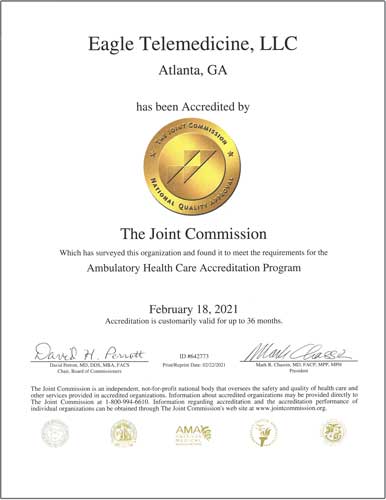 Prior to the assessment survey, Eagle Telemedicine preformed an extensive review of internal process to ensure compliance with The Joint Commission Ambulatory Health Care Accreditation standards, which apply to telehealth providers as well as ambulatory surgery, diagnostic imaging, community care centers and other similar health care service providers. To meet these standards, the company performed a comprehensive review of protocols associated with a variety of topics, including information management, national patient safety goals, and provision of care, treatment and services.
"We are pleased to receive accreditation from The Joint Commission," said Talbot "Mac" McCormick, MD, chief executive officer, Eagle Telemedicine. "The organization has a long history of advancing quality of care and patient safety. The Joint Commission's Gold Seal signifies our continued commitment to help our partner hospitals increase the healthcare services in their communities and improve patient care through the implementation of telemedicine."
The assessment survey includes education, training and assessment for both clinical and non-clinical staff. To achieve accreditation for telehealth services, the staff at Eagle Telemedicine completed training on topics, like compliance with the Health Insurance Portability and Accountability Act (HIPPA) compliance, data security and emergency management, to achieve accreditation. Preparation for the assessment provided the organization with the opportunity to stress-test and refine existing performance, security and quality programs.
"Eagle is a physician-led and professionally managed health care company," said Jason Povio, president and chief operating officer, Eagle Telemedicine.  "This achievement is one of many initiatives underway to improve quality, safety and access to our telehealth services. We expect to finish work on improvements to our cloud-based telehealth technology platform ETHOS to create a more effective and efficient work environment for our physician specialists. With these investments, Eagle enhances its ability to provide patients with high-quality, timely care, from the appropriate specialist, and within minutes — no matter where the patient is located."
For more information, please visit The Joint Commission website.