Get the Answers to Your Questions About How to Launch Inpatient Telemedicine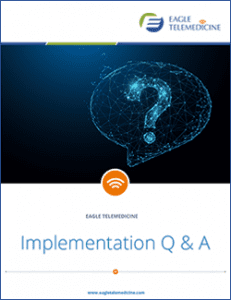 Telemedicine programs may seem revolutionary. The concept of a physician "beaming" into a hospital room may seem like Star Trek healthcare. You may wonder at the efficacy, when the physician is a face on a TV monitor.
Truth is, telemedicine programs are proven effective in medical care — with highly skilled medical Specialists, advanced audio/video/sensory technology, plus well-trained on-site teamwork.
The concept of telehealth was first proposed 100 years ago. Fast-forward to the 1960s, with the first attempts in putting concept into practice. In 2008, Eagle Telemedicine launched its pioneering hospitalist approach to telemedicine. In 2020, telemedicine is a proven approach to delivering medicine and clinical care — covering 14 medical specialties.