With the COVID-19 crisis, Eagle Telemedicine has seen an uptick in questions about telehealth implementation plans. Hospitals contacted Eagle to prepare for coronavirus patients, and manage the care of patients with the virus. The flurry of requests was no surprise.
What was a surprise? More than 120 registrations for our recent webinar about telemedicine implementation. This 30-minute webinar extended to almost an hour. The number audience questions from attendees was astounding.
David Cooke, VP Operations and Tori Surber, Operations Manager were on the call to help me address the specifics of a telehealth implementation plan, including:
Does Eagle have its own credentialing process to onboard doctors?
What are the most common pitfalls when implementing telemedicine?
What system does Eagle use for telemedicine scheduling and messaging?
Who are the key participants in telemedicine training at the hospital?
The number of registrations, attendees and questions inspired me to draft this article. Telemedicine empowers hospitals to:
Increase staff coverage
Expand services to the community
Improve patient care
What's driving interest in telemedicine today?
Hospitals, especially in rural areas, are looking to expanded access to hospitalists and specialists. Hospitals are also interested in using telemedicine to help keep their doors open. While elective surgeries were postponed, many hospitals suffered financial. Now, there's pent-up demand for care.
Eagle has a wealth of knowledge, and really believe telemedicine is the great equalizer in healthcare. Now, more than ever, it empowers hospitals to respond to demand, increase coverage when it's needed and expand specialty care to their communities. Eagle can be a big part of the solution for hospitals in driving improved patient care and satisfaction, as well as revenue and cost savings.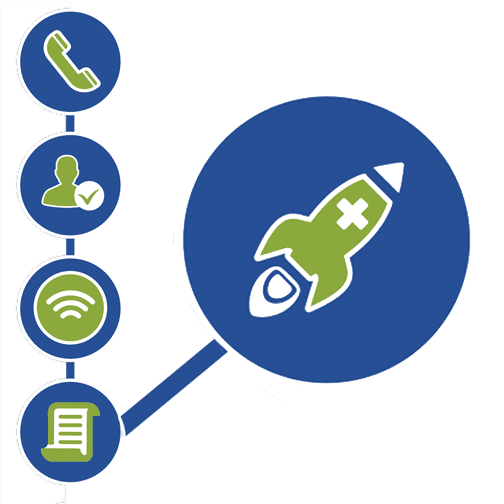 How does this connect to telehealth implementation planning?
To realize the patient benefits, cost savings and increased revenue, hospitals need to get telemedicine programs up and running fast. The coronavirus taught many of the hospitals Eagle works with that a program launch that takes six months or a year will be too little, too late.
Getting a new program off the ground requires coordination between the telemedicine company and the hospital. Eagle's Certified Program Implementation is designed to streamline your telehealth implementation plan and launch. We focus on a few key components that happen concurrently:
Project Kick Off Call / Timeline
Provider Selection – clients participate in selecting their team of specialists
Technology Setup – Eagle has developed partnerships and can help clients get from A-Z in creating a solid technology platform
Workflow Integration – how the program will work based on hospital's expectations
Mock Go-Live – testing technology, workflow, and other issues before launch
Program Launch and Beyond
Does this process accelerate telemedicine implementation?
Your telehealth implementation plan manager will review expectations and timelines, which is critical. COVID-19 has relaxed some processes, like credentialing. However, we'll be getting back to the typical pattern soon.
Our goal is to make it easy for your hospital to get started. That includes offering hospitals these services:
Supporting provider licensing & credentialing
Assisting with technology selection, including guidance around optimal connectivity setup and communication tools.
Developing key reference materials that document how telemedicine providers fit into your clinical workflow
Defining success metrics for both the implementation and the program.
Training your staff and testing the system during Mock Go-Live sessions.
Educating your patients and the community about the new services available at your hospital.
Our implementation team makes a tremendous effort to keep your program launch on track. Hospitals can expect frequent "touch bases." We want rapid-fire feedback loops. Those will taper off very quickly and become weekly and monthly reports. We like to check in. During implementation and after launch, our providers will find opportunities for standardization to drive high clinical improvements in care.
There's so much more to the Eagle telehealth implementation plan. Check back for more blog posts on how each step of the implementation is coordinated.
If you are interested in attending our next webinar on implementing telemedicine, complete the form below. I'll send you an invite.