Hospitals across the U.S. are expanding the ways they tackle hospital readmission rates in the age of COVID-19. With the help of telemedicine, hospitals are implementing procedures that better prepare at-risk patients for discharge.
More than 35 million hospital discharges happen annually in the United States alone. Hospitals readmit nearly 20% of Medicare discharges within 30 days. As a result of these high numbers, discharging patients from the hospital is a complex process filled with challenges. It's estimated that unplanned readmissions make up $15-$20 billion of our healthcare system's annual budget. Minimizing patient readmissions can improve both the quality of life for patients and the financial well-being of health care systems.
5 ways to reduce hospital readmission rates, offer patients better long-term health outcomes, and improve a hospital's bottom line:
1. Focus on the Admission Interview
The collection of accurate data at the time the patient is admitted can have a tremendous impact on whether the patient returns after discharge. Initial contact with patients should focus on getting to know the following:
Patient family health history
Past diagnosis
Social circumstances
Allergens
The combination of having this documented information and current symptoms, lead to more accurate diagnoses, lessens a hospital's readmission rates, and alerts staff about possible challenges during a patient's discharge phase. Experienced telemedicine physicians use proper interviewing techniques that leverage and add to the initial interview resulting in increased treatment success and discharge without readmission.
2. Deliver Post-Discharge Preventative Follow Up
According to the American Heart Association, "post-discharge conversations reduce unnecessary and expensive emergency room visits and readmissions. Patients with acute myocardial infarction (MI) and acutely decompensated heart failure (ADHF) – a population with a high risk of readmission – who were contacted within 14 days of discharge had a 64% reduction in 30-day readmissions." By the numbers, preventative post-discharge follow-ups allow hospitals the ability to decrease errors while increasing the amount of contact patients have with their doctor.
Telemedicine physicians aid hospitals in spreading out the number of appointments shared within their specialties. While Eagle physicians handle virtual visits during the night-shift and staffing gaps, hospitals schedule their doctors with more flexibility. The support of a telemedicine provider makes the difference between a burnt-out staff and effective post-discharge follow-ups carried out by the hospital's physicians.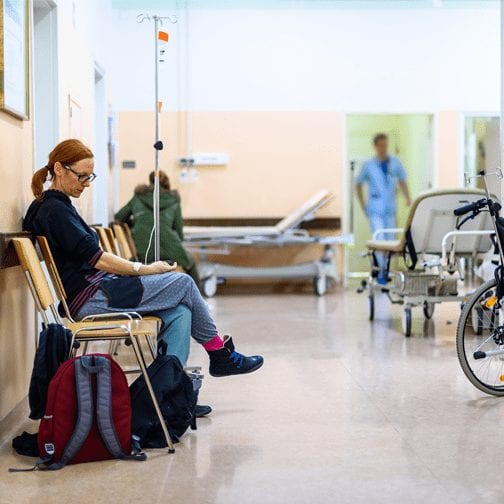 Hospitals are working to drive down 30-day readmission rates for the benefit of patients, and to avoid reimbursement cuts by the Centers for Medicare and Medicaid (CMS). In our third post on the impact of the Hospital Readmission Reduction Program (HRRP), we discuss:
Where patients with conditions associated with HRRP penalties are admitted to the hospital
And, where patients turn-up when they experience complications after an inpatient stay – it's the Emergency Department (ED), of course.
Which HRRP conditions are most associated with admission from the ED?
3. Pay Closer Attention to a Patient's Comorbidities
Age-associated increases in chronic conditions lead to more complicated prescription regimens and potential complications. As reported in The Hospitalist, "The reason for readmission often is not related to the index hospitalization diagnosis but, rather, to comorbidities present at the index episode of care; thus, attention to the management of comorbidities in the post-discharge period is important in circumventing potentially avoidable readmissions." A specialist or tele-hospitalist can help identify possible issues that might arise because of comorbidities and discuss with the patient any symptoms or signs to look for post-discharge.
4. Make Sure Patients Understand Treatment
Communication is key in healthcare. One of the most common reasons for patient readmission is the patient's inability to understand and manage their treatment. Patient-centered discharge instructions ensure that the patient has the following:
Engagement of home and community
Engagement of health services
Confirmed coordination of care between inpatient and outpatient providers
When these factors coexist, hospitals lower their readmission rates and keep their beds open for new patients. In one example listed in the Becker Hospital Review, a California hospital targeted preventable hospital readmissions by increasing the methods they use to educate patients about their diseases, called the "Teach Back" method. Patients are required to repeat their treatment to their physicians to ensure full understanding. This approach helped reduce 30-day and 90-day readmissions for heart failure patients 65 and older by 30%.
If other emergencies arise that require attention, staff physicians don't have the time to sit down with the patient and his family before discharge This scenario can be avoided with the help of tele-hospitalists. Choosing a telemedicine provider with a focus on "webside manners", save hospital staff time, and decreases readmission rates. Patients and their family/support system can be prepped by tele-physicians and the hospital staff, decreasing the likelihood of issues that cause the patient to see the doctor or return to the hospital.
5. Understand a Patient's Social Determinants
Physicians must understand their patient's backgrounds and factors outside of their health history. Social determinants like income, schedule, and trust in medical professionals, play a major role in deciphering if prescriptions or treatment plans are attainable for patients.
The largest concern for patients is affordability. A study released in March of 2020 revealed that researchers found significantly higher raw readmission rates for individuals with dual status, disability, housing instability, and neighborhood disadvantage. The same study cited that hospitals that serve the most vulnerable patients would see a 21.8 percent reduction in penalties under Medicare's Hospital Readmissions Reduction Program (HRRP) if CMS adjusted hospital readmission rates for social determinants of health on the patient level.
Medical professionals may find it easier to waver from these conversations, however, the key to accurate diagnosis and providing the right regimen for that diagnosis includes:
Asking pointed questions about living conditions
Assess resources for food and transportation
Ensuring family members/support systems help with medication adherence.
When these factors are taken into consideration, doctors are more likely to develop a plan that suits the patient's needs and lifestyle. During busy times and staff shortages, virtual visits can fill in these gaps of information for the hospital staff. This results in patients becoming more engaged and trusting in their follow-up care
As we all work together to lower the costly – both human and financial – issue of readmission, remember that there are simple ways to affect change in readmission rates. Now more than ever, hospitals are relying on proactive planning and technology solutions to deliver better patient outcomes around the world.
Read more about how telemedicine can reduce readmissions: