When calculating each hospital's readmission performance, hospital patient transfer is not the first thing that comes to mind. The Centers for Medicare & Medicaid Services (CMS) excludes patients with planned readmissions, left against medical advice or are immediately transferred to other hospitals following an evaluation in the calculation.
However, hospitals that have Medicare patients readmitted to the same or another acute care hospital within 30 days of discharge are subject to penalties under the Hospital Readmission Reduction Program (HRRP). Regardless of whether the patient received inpatient care at a facility and was:
Readmitted at that facility.
Later readmitted to another facility.
Returned to that facility, is not admitted but is transferred to another facility.
While Inter-Hospital Transfers (IHT) occur to allow patients to access specialized care, these transfers create complexity for patients and are often associated with poor outcomes, like a higher mortality rates for pneumonia, chronic obstructive pulmonary disease and urinary tract infection.
Telemedicine and Healthcare – What's Fact and What's Fiction?
Is the transferring hospital penalized for readmission of the patients that are transferred?
If a hospital frequently transfers patients upon initial evaluation without ever admitting the patient, the transferred patients will not impact the transferring hospitals' readmission rate. Even when the same patient is admitted after transfer to a tertiary facility.
The likelihood of readmission increases as continuity of care erodes. Transferred patients often have a more difficult time:
Obtaining follow-up care due to travel.
Facilitating communication between the patient's primary care provider and the remote facility.
 In addition, patients that receive care in their community are more likely to receive support from family and friends. That support system is often critical to:
Coordination of follow-up care.
Medication management after discharge.
Understanding discharge instructions and risks.
As a result, transferred patients often experience lower continuity of care. Continuity of care is a driving force in the prevention of readmissions. As we discussed in the blog:  5 Ways to Lower Hospital Readmission Rates with Better Discharge Procedures, communication and care coordination are critical to reducing readmissions. Fewer patients return to the hospital when discharge procedures focus on understanding treatment, managing comorbidities and ensuring outpatient follow-up care.
What does this mean for patients in your community?
Not all patient transfers are avoidable. Yet, at least one study has shown that ICU transfers occur more frequently at night. The authors of this study speculated that nighttime transfers occur more frequently because of "fewer overnight resources."
Adding Tele-ICU or TeleNocturnist coverage for additional hospitalist support may help hospitals avoid unnecessary nighttime transfers. Keeping these patients in the community would reduce risk to the patient during transfer and improve continuity of care – decreasing the likelihood of readmission.
Launching an inpatient telemedicine program with support in the emergency room and on the floor can prevent unnecessary patient transfers that create complexity and discontinuity for the patient, which increases the patient's risk of readmission. Access to remote specialists allow patients to receive necessary and specialized healthcare services close to home, even if they live in areas that are more rural.
WHITEPAPER: Strategies and Tips to Reduce Readmission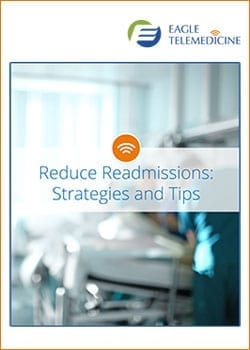 How can telemedicine help manage care for recently discharged patients returning to the ED?
In the event a patient does return, telemedicine can also reduce the risk of failing to readmit someone who does need inpatient treatment. Eagle's board-certified Specialists understand how to distinguish between care that requires inpatient hospitalization and what conditions can be treated on an outpatient basis. Critical Access Hospitals that struggle to staff a wide range of specialists 24/7/365, can turn to TeleCardiologists, TeleNeurologists, TelePulmonologists and other remote specialists to confirm whether further inpatient care is required.
Hospitals want to avoid readmission penalties; but the goal of HRRP and healthcare providers is to improve patient outcomes. Can telemedicine help your hospital avoid readmission penalties? Yes — but more importantly:
Can telemedicine help patients avoid transfer and receive better continuity of care? We believe telemedicine can do both, and so much more.
What is it like to use video conferencing to diagnose a patient?
Dr. Charles Kutler, Eagle Tele-ID specialists explains the differences and similarities between working in telemedicine and providing on-site care.
Read more about how telemedicine can reduce readmissions: