With healthcare moving from fee-for-service to value-based care and with the increased focus on population health and patient satisfaction, telemedicine can help reduce physician burnout and care gaps that lead to higher readmission rates.
In our last article, Can Better Diagnoses, Prescriptions Help with Hospital Readmission Reduction Program Initiatives?, we discussed how telemedicine can support better diagnosis and prescription selection, with an eye toward preventing payment reduction by the Centers for Medicare and Medicaid Services (CMS).
CMS monitors excessive hospital readmissions based on factors outlined in the Hospital Readmission Reduction Program (HRRP). The program compares similar hospitals and their patients when assessing patients returning to the hospital after treatment for several conditions, including acute myocardial infarction, Chronic Obstructive Pulmonary Disease (COPD), heart failure and pneumonia.
Right now, you are probably asking yourself, what does this have to do with physician burnout?
Telemedicine and Healthcare – What's Fact and What's Fiction?
Using the Maslach Burnout Inventory (MBI), the Mayo Clinic found that even a slight increase in the MBI, as little as 1 point, increases the likelihood a physician will reduce clinical effort by 43%. In evaluating this and other studies, Health Affairs concluded that physician burnout is associated with higher costs, including lower quality of care, medication errors and unnecessary testing – all of which are associated with higher hospital readmission rates.
Where is physician burnout the highest?
Physicians all over the country increasingly report burnout signals, like exhaustion, depersonalization, cynicism and depression. However, there are situations and specialties that are more likely to increase the risk of burnout.
Environment & Culture – How many of these situations exist at your hospital?
Full-time, dayshift physicians provide on-call coverage overnight and on the weekends
Local specialists support on-call coverage 24/7/365
Staff physicians care for patients in multiple, sometimes overlapping settings – emergency room, patient floors or clinical practice.
Turnover rates are high and recruiting times are long, requiring team members (doctors, nurses and support staff) to cover additional shifts over long periods, sometimes 12 months or more
Lots of variability related to patient volume places additional stress on doctors, nurses and support staff
Locum tenens usage is frequent so full-time staff are asked to train and monitor short-term employees
Most of the patients you treat are covered under public or commercial health plans that include Pay-For-Performance Models (PFP). PFP is now commonly used but physicians are often uncertain of how to define quality care and patient satisfaction.
Physician Evaluation – Which doctors at your hospital are struggling?
Physicians with high debt, often associated with the cost of medical school, are more likely to exhibit signs of stress
Doctors that spend a significant amount of time on administrative tasks are less satisfied with their work and more likely to report burnout.
Providers with higher nurse-to-doctor ratios experience more work-related stress
Loss of autonomy at work or support from colleagues contribute to decreased physician satisfaction and higher burnout among physicians – common causes include new management, revised procedures and colleague turnover
Long hours and high patient loads diminish performance and increase stress, which can increase errors and accidents
Hospitals can reduce physician, nurse and support staff burnout by focusing on improving the work environment, hospital culture and workload. Now's the time to get a handle on what's making physicians feel stress, exhaustion and depersonalization to reduce your facility's risk of readmission penalties and improve patient care.
Can Better Diagnoses Help with Hospital Readmission Reduction Program Initiatives?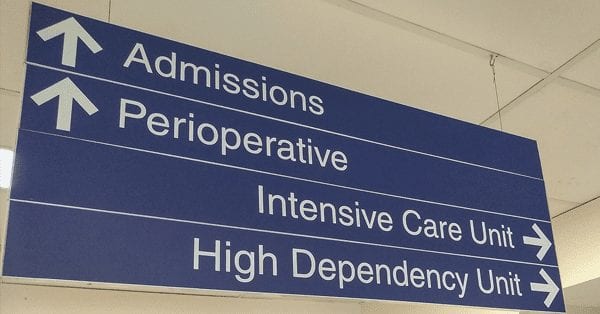 How to lower physician stress and decrease readmission rates?
In the book Healing Physician Burnout: Diagnosing, Preventing, and Treating, Quint Studer estimates that a physician experiencing burnout can cost your facility fore than $1 million over 5 years. Hiring a physician is a huge investment for your hospital, and keeping turnover low is critical to your bottom line and the well-being of patients.
Satisfied physicians are less likely to experience burnout. These physicians were also more likely to work 8 hours a day. Yet, the average doctor works 9 or more hours per day and 53 hours per week. This is only one factor that contributes to physician burnout.
Gather information: Ask you nurses, support staff and physicians where, when and why they are feeling stressed. Then, look at the data to see if their feedback matches up to:
Hours worked
Length of shifts
On-call coverage
Vacation utilization
Provider ratios (nurse-to-doctor, nurse-to-patient)
Examine your staffing mix: Look at your how and when your facility is staffed to make sure you have adequate staffing. This doesn't always mean having more staff members, but the right mix of physicians, physician assistants, nurses and other professionals.
Encourage vacation and limit shift duration:  It's best to have a solid pool of physicians from which you can call when one of your physicians needs time off for a vacation or life event. Studies show that when employees take their vacation time, they not only help themselves, but are better contributors to their employers.
Focus on wellness – Mental, Physical and Financial: Most hospitals have existing programs to support mental health and physical well-being. Take the time to evaluate who is using the services offered at your hospital. Then, consider who is not using these benefits:
Are the employees under the most stress missing out?
Do you need to add specific wellness events targeting physicians?
Can you provide debt relief, counseling or financial advice to physicians that are under financial strain?
If you don't already have a student debt relief benefit for newly hired physicians, consider adding this benefit to attract new candidates and lower stress levels after they are hired.
Use Telemedicine Providers: Telemedicine support can provide productivity benefits and reduce the stress on existing staff when patient volumes are unexpectedly high.
Eagle can help you design a telemedicine program that optimizes staff utilization based on patient need and demand for care. If your hospital uses Nurse Practitioners and Physician Assistants or lacks consistent night-time coverage, Eagle can customize a program to provide both specialists and TeleNocturnist to support to your advanced practitioners with a focus on lowering readmission rates.
We deliver economies of scale for your hospital by providing access to a small group, or pod, of telemedicine providers that are available to support your team when demand for care increases. For health systems, an Eagle pod of providers can act as a resource for a group of facilities – maximizing your investment.
In addition, adding more than one specialty allows you to get the most out of your technology investment. Eagle understands that few rural or Critical Access Hospitals have sufficient patient demand to justify 24/7 coverage for some specialties, like cardiology, stroke care and pulmonology. Adding multiple telemedicine solutions can help your facility:
Eliminate stress in the Emergency Department related to transfers, connecting with on-call physicians and avoiding inappropriate or sub-optimal treatment for patients experiencing symptoms of heart failure, pneumonia or stroke.
Reduce the responsibilities that stretch the capacity and diminish the performance of fulltime nocturnists by incorporating TeleHospitalist rotations on patient floors.
Give your nursing staff the support they need to handle unexpected changes in patient conditions by allowing them to access a Specialist that is awake and available to see the patient.
Our record of service and feedback from existing clients indicate that improving the well-being and workload of onsite physicians can reduce readmissions risks. By solving human resource issues, you can increase physician satisfaction and improve care.
Telemedicine combined with a few simple strategies to improve the work environment can drive down costs related to the long-term health of the patients you serve and lower readmission rates and the related penalties assessed by CMS.
Read more about how telemedicine can reduce readmissions: