With access to TeleCardiologists, a patients across the country suffering from ongoing heart conditions can receive a consultation from a specialists in the Emergency Room, on inpatient floors and outpatient clinics.
Heart disease is an epidemic that has not abated, given the obesity and diabetes prevalence in an aging population. The American College of Cardiology estimates a 128%  increase in deaths from heart disease by 2050, which represents a critical need that TeleCardiology can help meet.
The COVID-19 pandemic has exacerbated this trend, as many "long-haul" patients have been found to have serious heart issues. Even those with milder symptoms have developed arrhythmias that must be monitored long-term.
Rural, suburban, and inner-city hospitals are facing the need for 24/7/365 cardiology specialist care, as witnessed by the increased demand for TeleCardiologists that Eagle has experienced. While internal medicine and emergency physicians can handle some cases, many cardiac conditions are complex — requiring a cardiology specialist's expertise to accurately diagnose and treat the specific condition.
With access to TeleCardiology, a patient's electrical activity results ― such as an electrocardiogram (ECG), cardiac CT scans, cardiac MRI scans ― can be transmitted to and interpreted by a remote cardiologist allowing patients to receive real-time diagnoses. The on-site emergency medicine physician, hospitalist and/or nursing staff administer the treatment.
TeleCardiologists can also provide valuable consultative one-on-one assistance to hospitalists and inpatient providers during their management of patients with more challenging cardiac issues. An e-stethoscope operated by an on-site nurse allows the remote physician to remotely listen to the patient's heart and lungs, and monitor the patient's pulse. Through the live video feed, the patient's heart monitor is also clearly visible at the bedside during the consult.
In every way, the TeleCardiologist functions as a member of the local hospital team, working to ensure each patient gets optimal treatment. In Code Blue situations, a TeleCardiologist takes command by coordinating the Code Blue team  and offering direction from the bedside, just as any critical care specialist on-site would.
Research shows that the majority of cardiac concerns can be resolved using the services of TeleCardiology companies. Overall healthcare costs are reduced, including costs of medical transport to a tertiary facility. Patients get the expert care they deserve close to home instead of making repeated trips to an out-of-town hospital. And the local specialists get well-deserved time off, assured their patients are getting expert medical care.
WHITEPAPER: Strategies and Tips to Reduce Readmission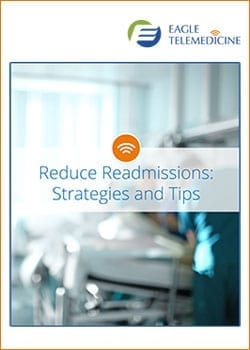 TeleCardiologist Can Manage 5 Cardiology Conditions Requiring On-Going Treatment
1. Post-COVID-19 Heart Conditions
Studies have shown that hospitalized COVID patients should be monitored for cardiovascular comorbidities including diabetes, hypertension and  coronary artery disease. Even those patients with mild symptoms are at risk for arrhythmias and should be monitored. Patients who have persistent "long-haul" symptoms should be monitored for arrhythmias as well as active myocarditis to prevent a life-threatening event like sudden death.
TeleCardiology can be instrumental in following these post-COVID patients. Their expertise is necessary in making critical diagnoses, ensuring optimal treatment in a timely manner to greatly reduce risk of disability and death.
2. Cardiovascular disease
Hospitals that focus on intervening before cardiovascular events occur could avoid substantial mortality, morbidity, and health care costs, research shows. While myocardial infarction is often treated by internal medicine physicians, some heart conditions are beyond their experience — increasing the need for access to specialists.  Arrhythmia, congenital heart defects, heart valve disease, heart muscle disorders, and heart infections will require a specialist's long-term care, a role for the TeleCardiologist.
3. Coronary artery disease
These serious conditions include atrial fibrillation, cardiomyopathy, mitral valve events, aortic stenosis, chronic heart failure and congenital heart defects. The symptoms overlap with cardiovascular diseases, which makes the diagnosis complex, requiring a specialist's expertise. As with other cardiovascular conditions, these require long-term follow-up by a specialist TeleCardiologist.
4. Congenital heart defects
Adult-diagnosed heart defects are complex heart conditions requiring a specialist's expertise for long-term treatment — as multiple heart disorders often develop due to the defect. These may involve the heart's pulmonary valve, tricuspid valve, mitral valve, or aortic valve. Every heart defect condition requires life-long follow-up visits with a specialist TeleCardiologist to detect subtle symptoms and manage the condition, focused on improving quality of life.
5. Congestive heart failure
Symptoms overlap with other heart conditions, so a TeleCardiology specialist is necessary to make the diagnosis — and to determine the underlying cause(s), including coronary artery disease, high blood pressure, diabetes or obesity. Treatment will be ongoing, under the TeleCardiologist's care, to maintain stability in the patient's condition and prevent life-threatening heart or lung developments.
A TeleCardiologist can provide valuable consultative assistance in the absence of an on-site specialist. For hospitals that employ a full-time cardiologist, telemedicine supports call coverage and rounding when the specialist is off-duty or on leave.
Using today's advanced technology, Eagle physicians provide patients with a thorough diagnosis and care via virtual exams, diagnostics, and provider-to-provider consultations.
Is the patient care process for telemedicine the same at every hospital?
Dr. Charles Kutler, Eagle Specialist explains the different ways he provides coverage for different hospitals and patient scenarios.
TeleCardiologist Benefits
Provide 24/7 access to expert cardiologists
Collaborate coverage with local physicians
Manage gaps in cardiology coverage
Emergency response time of 15 minutes or less
Maintain excellence in care and reduce transfers
TeleCardiology can increase satisfaction for patients, families and staff
Improve compliance with Leapfrog IPS standards
Increase patient volume
Maximize ROI with incremental DRG reimbursement
Telemedicine Improves a Community's Infrastructure
When patients in a small hospital have access to specialist coverage, this service greatly enhances the hospital's reputation. Residents feel greater security, knowing their local hospital can handle these life-threatening emergencies 24/7/365.
Excellent healthcare is a critical component of a community's infrastructure, and with telemedicine, every community can benefit from the advanced medical expertise of a TeleCardiologist — literally saving lives, close to home.
How can telemedicine improve care at your hospital?