Are You Looking for Critical Care Telemedicine Jobs? 
In the past year, Eagle has seen growing demand for critical care telemedicine jobs. We have also launched a multitude of Tele-ICU programs — at a rate far greater than ever anticipated. TelePulmonologists and Tele-ICU specialists have been in high demand to meet the emergencies of the pandemic.
Tele-ICU specialists are often referred to as "intensivists" — physicians who are specially trained and certified in critical care. The need for this expertise is expected to continue, based on changing demographics. An aging patient population is a strong factor, compounded by new diseases and the physician shortage across the country.
It's a dire situation in many small rural communities as well as inner-city hospitals, trying to recruit and retain ICU specialists.
That's where telemedicine has been a lifesaver — providing the specialist care these hospitals desperately need, for the sake of the communities they serve. Eagle Tele-ICU specialists can "beam in" from any location, treating patients thousands of miles away or around the corner. Those patients and their families are, in every instance, very grateful to have top medical expertise close to home.
Eagle currently provides telespecialty care in 14 medical specialties, and that list is growing. The need is great for physicians to step into the role of Specialist, especially in ICU work.
"Our objective is to identify and retain high-caliber physicians with excellent communication skills," says Dr. Talbot "Mac" McCormick, Eagle's Chief Executive Officer.
Eagle's orientation program facilitates the transition into telemedicine, allaying any anxieties and putting each new Tele-ICU specialist at ease and knowledgeable on Day One. They will feel confident working with on-site teams in healthcare facilities across the country.
The specialists provide virtual coverage via a highly sophisticated audio/visual "robot" cart —where their face will appear on a monitor screen. Each Specialist is coached in developing a "webside manner" that engages the patient and family, for a comfortable virtual conversation.
As any ICU specialist who worked during the pandemic knows, these virtual conversations can be very effective.
In fact, that patient-family-physician bond can be just as strong as with on-site physicians, says Jeff Sadowsky, MD, who has worked as an Eagle Tele-ICU specialist for three years. "I've had two families give me a virtual hug. That speaks volumes."
While the technology rarely malfunctions, the on-site teams are trained in handling the AV cart, and technical help is on-call 24/7 to mitigate any issues that arise. On-site nurses typically become so familiar with the technology, they can troubleshoot and fix any problems.
Nurses are a critical part of ICU care, and telemedicine is earning their trust and helping them deliver better and faster care.
Download the case study for more information: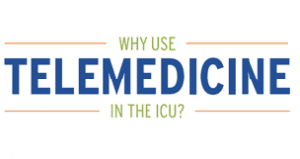 Eagle Telemedicine works with hospitals to provide remote access to skilled intensivists, resulting in demonstrable improvements in patient care.
What Does Tele-ICU Specialist Do?
Eagle customizes each contract to match the hospital's needs. We do the same for our critical care telemedicine jobs. We want our physicians to work on teams and with hospitals that align with their lifestyle. A hospital can use Tele-ICU coverage only on weekends, on staff vacations — or during regular night shifts. "As we say to our hospital partners, we don't ask you to fit into our box. Just explain your box and we'll fit into it," says Dr. Talbot "Mac" McCormick.
Eagle's core team of TeleIntensivists and pulmonologists will share ICU patient care management with onsite intensivists and/or hospitalists. Our telemedicine intensivists can run an ICU, handling everything —from floor call to attending rapid responses and running codes.
The tele-intensivist conducts proactive rounds with ICU nurses to assess, triage and institute early treatment in patients with an acute decline in their clinical status. The ICU rounds are multidisciplinary with the bedside nurse and a respiratory therapist, if the patient is on a ventilator.
The bedside nurse acts as the Specialist's "arms and hands," , conducting the physical exam and applying the electronic stethoscope as instructed by the Tele-ICU provider.
In each case, the Tele-ICU specialist monitors patient oxygen levels and heart rate, manages ventilators and makes sure all PRNs are ordered —Tylenol, stool softeners, pain medicine, etc.
When floor rounds are complete — and all patients in the facility have been seen — the Tele-ICU specialist will submit all documentation to the hospital's EMR. The specialist's training allows them to easily adapt to each hospital's EMR platform, so they can seamlessly integrate each patient's notes.
At that point, the Eagle Tele-ICU moves on to handle another facility's rounds.
One Thing Remains Constant: With each hospital, every shift, the Tele-ICU specialist remains on-call for all emergencies, patient admissions, and Rapid Response/Code Blue events. They are ready to pivot quickly, to handle one hospital's emergency, then adeptly return to their rounds at another hospital — whatever the situation requires.
Running Code Blues: When a Tele-ICU runs a Code Blue, they call orders from the foot of the bedside. Every on-site team member knows their role; all have practiced multiple times. An on-site nurse anesthetist or emergency physician can perform intubation, and a general surgeon can insert a central line, as needed. Eagle's intensivists take great pride in their handling of Code Blues, running them seamlessly with the best outcomes.
How Telemedicine Providers Manage a Code Blue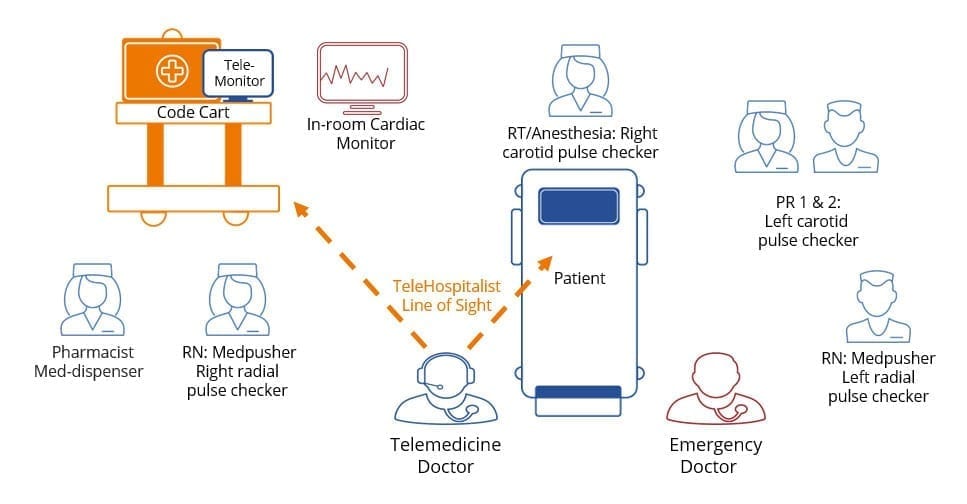 Benefits of Critical Care Telemedicine Jobs 
Eagle's Specialists enjoy working with a nationally recognized, physician-led organization. They appreciate two essential components — flexibility and clinical support — that allow them to maintain a balanced lifestyle.
The Specialist will have opportunities to work with a diverse mix of geographic locations and program sizes. Typically they work a "seven days on, seven days off" schedule.
"It's an attractive lifestyle for many, particularly physicians who want to practice medicine as an employee, without having to deal with the business side of running an outpatient practice," says Dr. McCormick.
As for pay, "you have the opportunity to start your career near the top of the heap in terms of salary without having to spend 10 years or more building a private practice," he says.
Solid medical practices, low staff turnover, and quality patient care are also benefits for Eagle specialists. Time and time again, our full-time physicians recommend Eagle Telemedicine to their colleagues and friends as a great place to work.
"You will make a difference in your patients' lives," says Dr. McCormick. "Eagle will make a difference in your life."
Eagle's management team and medical directors have tailored informative programs that facilitate the physician's transition into telehealth, easing their anxieties and laying the groundwork for a successful career.
"Telemedicine physicians like this work," says Dr. Sadowsky. "We find we smile more with patients, have more time to spend talking with them. We form a real bond with our patients."
Specialists also enjoy the uniqueness of the work and the variety it offers, he explains.  "We can live anywhere, yet we work closely with hospitals all over the U.S., practicing our specialty as a highly-valued team member."
Many small rural hospitals have difficulty recruiting and retaining critical care specialists, often because there's no vacation and weekend relief. This situation presents a serious challenge in providing consistent ICU care. Even metropolitan and suburban hospitals have difficulty keeping their ICUs fully staffed for these reasons.
Let's examine the challenges hospital executives face in staffing their ICUs, and how telemedicine is the good news in this scenario.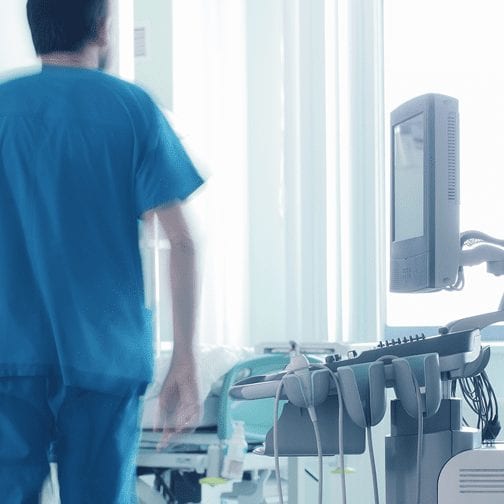 Inpatient Metrics are Critical
Many hospitals struggle to provide consistent ICU care, largely because there is a national shortage of intensivists and because they are unevenly distributed across metropolitan and rural areas,
It's a problem for two main reasons:
When ICU patients are cared for by intensivists who are available around the clock, ICU mortality decreases considerably — by 40%, research shows. Healthcare-associated infections (HAIs) also drop. The Society of Critical Care Medicine reports that ICU costs and lengths of stay are reduced.
The Leapfrog Group, a watchdog organization that grades hospitals on an annual survey of safety practices, asks hospitals to staff their ICUs with intensivists during daytime hours and provide timely responses to patients during off hours.
("Timely" means they must return pages within five minutes at least 95 percent of the time when not present on site or via telemedicine, and must arrange for a physician or other clinical staff to reach ICU patients within five minutes.)
The adoption of Leapfrog's ICU physician staffing standard has increased over time — from 30 percent in 2007 to 47 percent in 2015, but there is more work to be done. At Eagle, we stand ready to help hospitals adapt to changing standards and to the changing needs of patients.
Many hospitals also focus on offering new outpatient services to their communities, but inpatient volume remains critical and prudent hospital providers and executives must be creative in maintaining it.
Providers specializing in intensive care will find the hospital teams truly appreciate their support. Patients and family members are forever grateful when a Tele-ICU specialist saves a precious life. Without that expertise, via a robot cart, the outcome could have been so much worse. And by avoiding a long trek to a tertiary center, the stress on families is greatly relieved.
During this pandemic, every ICU specialist has known the feeling of a virtual hug. That's the beauty of telemedicine — and being a dedicated Tele-ICU specialist with Eagle.