Small hospitals have fluctuating demand for care and for specialists, like neurology, pulmonology and cardiology. These hospitals also have a more difficult time securing 24/7/365 specialist coverage because of lower revenues that constrain their resources. And, the cost to employ specialists is higher for rural and community hospitals.
Often, specialist want to work at facilities where they can work with larger teams. The team environment enables these physicians to stay up-to-date on changes in their field. To supplement for the shortage of specialists, small and mid-sized hospitals are forced to leverage hospitalists for coverage which is driving an increase in hospitalist salaries as well.
Where do these hospitals turn when they cannot recruit (or afford to recruit) more hospitalists? How do they retain the hospitalists they have? These hospitals turn to telemedicine to reduce the burden of night calls and nocturnists care.
TeleHospitalist Programs Balance Costs & Revenue
Telemedicine services can provide access to TeleHospitalist programs whose physicians act as members of the medical team, consult directly with the patient, and respond on-demand when the hospitals census is high, or the emergency room gets a surge of patients. The hospital and the patients benefit, day and night, because the onsite physicians can dedicate their time to the patients with the most acute care needs, while the remote physicians perform rounds or manage patients that do not require hands-on diagnosis, like surgical care.
Since the TeleHospitalist is shared among several hospitals, often within the same health system or region, the cost of retaining the provider is reduced. In addition, coverage increases because all of the hospitals are able to ramp-up or down according to patient needs without incurring the expense of hiring an onsite physician to meet patient care needs that rarely happen.
While TeleHospitalist programs are incredibly cost effective and useful with patient volumes are high, it also brings savings and secures hospital revenue when patient volumes are low.
Case Study: How Does an Eagle TeleHospitalist Program Benefit A Partner Hospital?
At Piedmont Mountainside, an award-winning 52-bed hospital located in the foothills of the North Georgia Mountains, Eagle's TeleNocturnist program receives high marks from multiple stakeholders: patients, administrators, doctors, and nurses.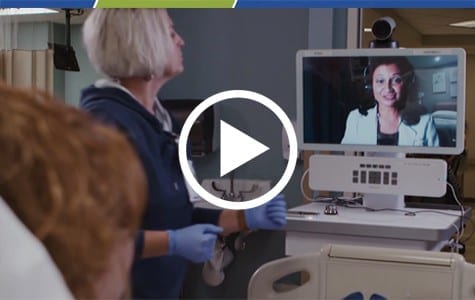 Rounding and Nurse Support using TeleHospitalist Programs
In the last decade there has been a tremendous increase in the use of advanced practitioners to support hospital night coverage. Nocturnists are now rare because the physician shortage has allowed most hospitalist to find fulltime employment that does not require them to work at night.
There are now more than 325,000 nurse practitioners in the U.S. and more than 42% of full-time nurse practitioners have hospital privileges. This trend is likely to continue which means that the nurse practitioners and physician assistants that work at your facility need the ability to contact a physician when questions arise or additional approval is required.
In hospitals across the country, TeleHospitalist programs are responding to requests from advanced practitioners, particularly at night.  These same physicians also perform virtual rounding with the nighttime nursing staff.
Often these TeleHospitalist programs enable facilities to increase rounding to improve patient care and hospital metrics.
Eagle TeleHospitalist are also supporting the Emergency Department by handling admissions and providing physician-to-physicians consults by phone. This removes the burden of floor calls from their your nocturnist team, and when physician consult demands are light, TeleHospitalist programs can improve the speed and quality of care with face-to-face consults via videoconferencing technology.
Access to TeleHospitalist programs whenever you need them with the click of a mouse is a sustainable, cost-effective solution to patient care. Small TeleHospitalist teams are ideal for rural hospitals with limited local physician resources or metropolitan hospitals where surges can happen any time. This is just one of many telemedicine specialties that reduce unnecessary transfers, boost patient volume, and increase the expertise and confidence of medical staff.
Why is telemedicine hospitalist support in demand?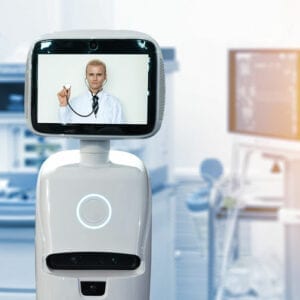 How can telemedicine improve care at your hospital?