We entered the LTACH market recently, and are currently providing telemedicine night coverage to three LTACH facilities in North Carolina. In medicine, there are always new opportunities—diseases to treat, new techniques and approaches to medicine, innovations to improve patient care\.
At Eagle, we are finding the same holds true for telemedicine. We find new uses for it every day.
With the increasing physician shortage, in critical care, infectious disease and gastroenterology, virtual care and telehealth are supporting patient care across the country in all types of hospitals. The expansions of long-term acute care hospitals (LTACHs) has enabled Eagle to offer telehealth services that bring specialist care to LTACH patients only when they are required, while also solving night coverage challenges.
In the 8 years since we began telehealth programs, Eagle has provided remote hospitalist services and a range of telemedicine specialties in acute care hospitals across the United States.
Telehealth Works for Long-term Acute Care Hospitals
An estimated 10-20 percent of hospital patients with critical illness require prolonged medical care after acute care hospitalization.
Patients at these facilities may be on a ventilator or have other needs like ongoing dialysis or wound care that require more specialized physician care than a skilled nursing facility (SNF) provides.
The number of Long-term Acute Care Hospitals has increased in response to an aging population with needs that include recovery from hip replacements and other orthopedic surgeries. Some of these facilities operate independently but others are part of a larger hospital.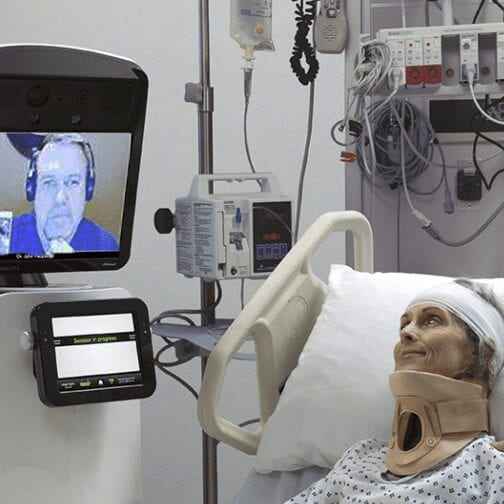 Unlike many skilled nursing facility and hospice care patients, LTACH patients are expected to make a recovery. These patients need a care plan and a doctor to assist each patient. Physician oversight is critical to what makes Long-term Acute care Hospitals unique. These facilities have a need for periodic, focused attention by specialists. Due to the long lasting needs of their patients, LTACHs are an ideal environment for telemedicine coverage.
How Remote Care Can Work for LTACHs
Here are a few examples of telemedicine's potential in the LTACH setting.
Hospital Staff Management: One telemedicine primary care physician or hospitalist can typically cover rounding requirements for five LTACHs with a total of 100 beds among them.
Specialists Access: Depending on the patients at an LTACH, Specialists in cardiology, nephrology, neurology and even pulmonology telemedicine, can be available in an instant.
Night Shift Coverage: With a telemedicine team providing comprehensive coverage of night calls, code management and admission, an LTACH can let its physicians recharge and revitalize, knowing the patients have high quality care at night.
Patient Rounds: Other than routine daily rounds, physicians are also needed at an LTACH to perform rounds—that is, rounds to identify any decline among patients. Our TeleHospitalists and TeleNocturnists perform rounds to support onsite physicians or nursing staff.
Using telehealth and nursing, a physician can consult with a patient in a few minutes of receiving request. Our consistent response times are another reason telemedicine is working at Long-Term Acute Care Hospitals. Our telehealth programs have grown so much over the last year—among critical access hospitals and at LTACH.
Eagle Telemedicine has the technology and the doctors to provide care in numerous specialties. We are ready to meet your needs and growth in the industry.