Understand the Process of Credentialing Telemedicine Providers
To work as a remote provider, Eagle and each hospital must complete the process of credentialing telemedicine providers. Credentialing refers to an authorization process that allows a physician to work at a specific hospital. The physician must first be licensed in the state where the hospital is located.  
At Eagle, we assist new remote physicians with the application for new state licenses when the license is required to provide care at one of our partner hospitals. Before applying, we ask that all of our applicants be licensed in at least one U.S. state.
Streamlined Credentialing
Our team works with each new physician to streamline the application, licensing and telehealth credentialing process. 
Eagle Application & Credentialing: After completing the interview process, the physician completes a telemedicine credentialing application form. This form request information about your background, including: 
Education,

 

Residency and Fellowships

 

Additional Training

 

Employment History,

 

Professional References

Malpractice Claims or Investigations.

 
We also request all documentation for much of this information. This is the first step of the credentialing process, and it aligns with the procedures for credentialing telemedicine providers and onsite physicians at most hospitals. Once we receive your background information, we verify all of the information and check your references.  
Once the process is complete, your background is submitted for approval by our Medical Executive Committee and Credentialing Board. Then, we begin the state licensing and facility-specific credentialing processes.  
State Licensing: Every state has its own licensing and renewal procedures; some require annual renewal, while others have two- or three-year schedules. For those physicians that require a license in a new state, Eagle Telemedicine submits your application for a new state license. We also pay the required fees and manage the renewal of state licenses associated with your work as an Eagle Telemedicine physician.  
Credentialing: Each hospital has its own credentialing process, including specific forms to complete. Our team will complete these credentialing forms using the information verified during the Eagle application process.  
We provide you with a completed credentialing form to review. Unless there are changes needed, we ask that you sign the application and return the document within 48 hours to expedite the process of credentialing telemedicine providers. You will also be asked to answer any accreditation questions and formally request privileges at that hospital. 
Our team serves as the liaison between you and our hospital partner. During credentialing, the Eagle team will act as a liaison between you and the partner hospital. Our staff checks-in with the hospital frequently and coordinates requests and questions. We try to mitigate the amount of communication between you and the hospital to be respectful of your time. This is one of the benefits of working with Eagle Telemedicine and why we verify your background before submitting your information to a hospital for credentialing.  
Since most of our physicians provide care at multiple facilities, we will also monitor the process of credentialing telemedicine providers through hospital board approvals.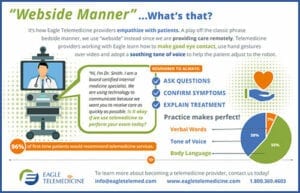 We offer a portfolio of specialized solutions to fit the needs of hospitals of all sizes that also make working in telemedicine easy. Join our team!
Common Questions About Credentialing Telemedicine Providers
How does this process benefit the physician? 
We make the application processes as efficient as possible. Credentialing at a hospital typically takes 3-6 months. By gathering and verifying your information prior to presenting you to a hospital, we are able to simplify the workload for you and the hospital's credentialing team. You will simply review the pre-populated applications and respond to any questions. It's a real timesaver. 
How does credentialing telemedicine providers by proxy work? 
Eagle Telemedicine is accredited by the Joint Commission, effective February 2021. If a hospital partner is also Joint Commission accredited, Eagle Telemedicine can credential by proxy. This means the hospital recognizes that Eagle has completed the entire process of verification. This greatly reduces the amount of paperwork and speeds up the timeline for you to get to work.  
Does Eagle pay for the physician's licensing or renewals, or for credentialing?  
Yes. Eagle pays for all licensing in states where the provider is practicing at an Eagle Telemedicine partner hospital, which often involves multiple states. We do not pay for licensing in states where the physician is not practicing on behalf of Eagle Telemedicine. In addition, we cover all costs required to credential a physician with our partner facilities. 
What is the timeframe for credentialing and licensing? 
Credentialing begins immediately following the interview process. Once you have completed the credentialing application, the application goes to our Medical Executive Committee and Credentialing Board. Once approved, we submit the documentation required to obtain additional state licenses.  
The licensing timeframe will depend on the state's approval process — typically 90-120 days. If credentialing is by proxy, the approval will take between 30-45 days. We will run the applications in tandem.  
Our board-certified physicians are a part of a comprehensive care team that prioritizes patient health, rural hospital support, and work-life balance.
Our telemedicine doctors provide a service that can helps hospitals avoid the nightmare of staffing and retaining doctors round the clock. Small rural facilities and large metropolitan health systems, deserve to be covered by a team of physicians that work with the hospital with the help of technology.
Our experts handle everything from floor call to admissions to attending rapid responses and codes, hospitals reduce physician burnout and attrition and patients receive expert, timely treatment.